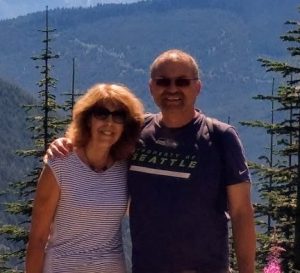 Pastor Matt has been the Lead Pastor for the past twenty three years here at Chilliwack Baptist Church.
A short Biography
Matt Dressler was born December 21,1957 to Dr. Harold and Ruth Dressler in Vancouver, BC. Pastor Matt is the oldest of six children (5 boys and 1 girl) and was interested in the pastorate from early teens on.
Following graduation from Grammer School in Cambridge, England, Pastor Matt attended Northwest Baptist Theological College and Seminary and received his Bachelor of Theology degree in 1981.
Sandi Dressler was born to Dr. Gary and Gerry Hall in Burnaby, BC. Sandi is the oldest of 5 children (4 girls and 1 boy). Upon graduation from High School at Rift Valley Academy in Kenya, Sandi attended NBTC for her one-year Diploma and then attained her certification for Dental Assisting and put Pastor Matt through school. Since that time, Sandi has received her degree in education and is now a full-time High School teacher at Unity Christian in Chilliwack.
Matt and Sandi were married on May 5th, 1979, and have since co- authored three environmentally dangerous males, Jason (b.'82), Jonathan (b.'85) and Jeffrey (b.'89).